For more information on the AAUW Regional Conference Click Here AAUW is the nation's leading voice promoting equity and education for women and girls.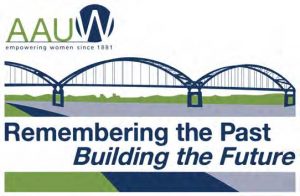 Since our founding in 1881, AAUW members have examined and taken positions on the fundamental issues of the day — educational, social, economic, and political.
AAUW's Mission: Advance equity for womenand girls through advocacy, education, and research. ​
For more information on the AAUW Regional Conference Click Here
Women's Athletics and Women's Voting Rights
Representatives of organizations that are members of the 19th Amendment Centennial Commemoration Committee (19th ACCC) are presenting plaques to the women's basketball programs at UNI, ISU, U of Iowa, and Drake this basketball season. The UNI women's volleyball program with receive a plaque in the fall of 2020. The presentations are in recognition of the centennial, and of the coaches' financial contributions toward 19th Amendment activities. Thank you, coaches.
A presentation occurred on February 9 at the University of Northern Iowa women's basketball game. The next is scheduled for February 22 at the University of Iowa women's game. Representatives of AAUW Iowa, a participating organization in the 19th ACCC, were involved in the presentations.
For more information on the 19th Amendment Centennial Commemoration Statewide Kickoff Click Here          For the Event Schedule Click Here
Lobby Day 2020
On February 12, eight AAUW members gathered at the Statehouse to talk with legislators about voting restoration, reasonable accommodations for pregnant workers, human trafficking, and gender pay equity. Representatives Mary Wolfe and Phyllis Thede, who are also AAUW members, stopped in to talk about legislation and issues.
It's sometimes difficult to find legislators at a time when they are available for a few minutes, so we left information about issues for those we were unable to reach in person. Capitol Corps members will also continue to make contacts throughout the session. And of course we rely on branch and state leaders, as well as member, to also contact legislators.

For more information on The AAUW 5 STAR PROGRAM Click Here
Keep Connected to AAUW Iowa via The Connector.
For upcoming events, click here or visit the websites of the branches.